The writer, Hanif Haji Majid Salat was born on 24th January 1953 in Saurashtra region in Western State of India, Gujarat. He belongs to a well to do business community of Indian Muslims called Memons. Being the elder son of disciplined parents, he got his education in a well-disciplined and very strict atmosphere of a public school, Rajkumar College of Rajkot.
Father of three children, Mr. Hanif is basically an industrialist of high caliber.Besides his routine business, trade and commercial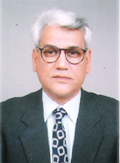 activities with social obligations, he has an urge to explore and go in the depth of The Last Writ of his Creator, Al-Qur'an. Without referring the traditional theology, he applies his own intelligence, reasoning and logic to get the messages from the unambiguous and well-defined Verses of The Heavenly Revelation.
At his own level, he renders his services to The Holy Revelation, through his lectures and articles, delivering the spirit of the messages of The Creator in its own purity. His intention remains always, to share it with other fellow human beings. We feel honored in presenting few of his works on this website.

********